In 2019, Dutch households wasted an average of 34.3 kg per person, totalling to 590 million kg of food. We think that is unacceptable!
Thus, Foodsharing Delft aims to raise awareness about how to reduce food waste around Delft. We pick up food waste from local shops and the market and distribute it using our communal fridge. Foodsharing is a growing community bringing together everyone passionate about reducing food waste by creating opportunities to make new friends – for example at our no-waste dinners.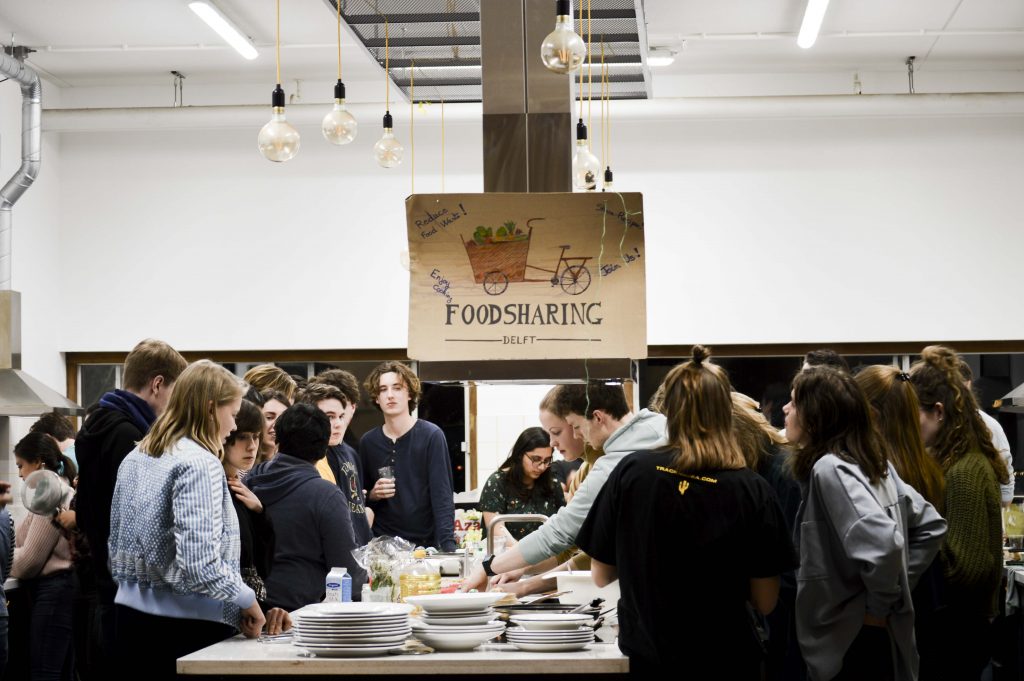 To accelerate the transition towards a community based food waste-free society.
Being sustainable by saving and redistributing food waste and creating a grass roots movement based on awareness.
Our community fridge is a place where anyone can leave or take food they no longer need. For example, if you are going on holiday and you know that the bunch of carrots you have at home won't wait for you, you can simply bring it to the community fridge. Please be careful. Never leave something in the fridge that is not edible or clean, or something you would not eat yourself.
Our volunteers are in charge of picking up food twice a week, maintaining the community fridge, and bringing to life the Foodsharing community. Would you like to be more involved, help us pick up food and organize events? Join us! Anyone is welcome, just send us an email at delftfoodsharing@gmail.com.
We usually organize no-waste dinners every month. Now that COVID regulations have eased up, we are trying to get back to this regular event schedule. Keep an eye on our Facebook page for more updates.
In May 2020 we established the first community fridge in Delft. Since then our fridge has been used to store all the wasted food we have saved. Everyone is welcome to take or leave any food they no longer need at any time. When using our community fridge, we ask you to follow our guidelines. You can find our current fridge at Nieuwelaan 50, near the Sint Sebastiaansbrug.